Skip to product information
Summer Mystery Box Bundle (2 Shorts & 2 Tees & 1 Accessory)
Regular price $200.00 Sale price $74.00 Save 63%
Limited Time Summer Mystery Box

(2 Shorts & 2 Tees & 1 Accessory guaranteed)
Don't worry we got you covered here at Bucket Culture! Everything you need in one box. Save big and get the best combination of gear at a fraction of the price!
Just select your size and we'll take care of the rest! #CultureCarePackage

Box includes the following mystery items:
2 Premium Mesh Shorts
2 Premium Tees
1 Premium Accessory
Wear now, pay later option
All items in box are good for returns or exchanges, so if you don't like any item(s) in the box you can return for exchange or refund! Discount codes do not apply to this product. Box in product mockup is just digital rendering & not included in order

SHIPPING/ORDER PROCESSING INFO
Once items are purchased customers will receive an email verifying their purchase.Once order is ready for shipment from our fulfillment center you will receive an email containing the tracking number for your order.
TRACKING
You can track your order here! 
TIMELINE
After order is placed, items usually take within 1-2 business days to process before ready for shipment. Shipping from our fulfillment center typically takes 2-3 business days, varying on package destination.
Disclaimer: These shipping times are averaged, some orders can end up coming in sooner and some may come in later if there are any printing/stock delays, so don't be alarmed if delayed orders do not fall within these time limits.
You may also expect longer processing times for orders during busy holiday seasons when there is increased order volume.
Any issues with shipping or products contact us, or email our support team at support@bucketculture.com.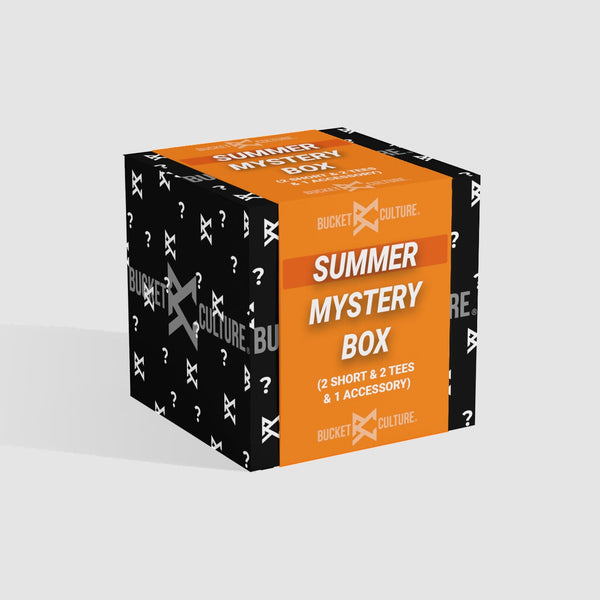 Summer Mystery Box Bundle (2 Shorts & 2 Tees & 1 Accessory)
Regular price $200.00 Sale price $74.00